Ottawa's finals took place today, and this year's return to rank of formerly strong schools makes me want to call it a return of the titans. Because I'm silly like that. March 4's regional round-robins ended with Lisgar, Bell, and Gloucester first in their pools and Holy Trinity, Colonel By, and Merivale as their respective seconds. Those 6 teams played in the finals today; the round-robin resulted in Lisgar, Gloucester, Bell, and Colonel By advancing in that order, with Merivale taking 5th and Holy Trinity taking 6th.
The playoffs were played with a page system. In the 1 vs 2 game, Lisgar beat Gloucester by...under 100 points. Meanwhile Bell beat Colonel By by...a lot more. And a consolation game was played between Merivale and Holy Trinity, but that didn't change their ranks.
Anyway, Lisgar got a by for the next game, in which Gloucester ended up beating Bell. Then Lisgar and Gloucester played a not-too-edge-of-your seat ending 550-330 for Lisgar. Lisgar, Gloucester, and Bell advance to provincials.
Gloucester and Bell have not been in the top three in recent years, but both have been former national (Gloucester: 97-98, 00-01, Bell: 93-94) and regional champions (see the photos of the Ottawa regionals plaque below). Lisgar has been very strong regionally but has not done so well provincially or made it to nationals; they are, however, champions again after losing to Colonel By last year. Hence my desire to call this year a return of the titans!
For what it's worth, the round-robin of this championship was very strange. Bell beat Lisgar, though no one else did. Bell lost substantially to Merivale, but also won against Colonel By, to whom Merivale lost substantially. And there were weird happenings with Gloucester too, but I don't remember them. The packs were all very predictable -- same question types and much repetition of categories. It's going to sound terribly biased coming from the captain of the 5th-placing Merivale team, but teams 3-5 were very much comparable in strength. Gloucester was not very much stronger than them, and Lisgar was not very much stronger than Gloucester...and...well, it was all kind of weird and pack-dependent.
Anyway, here are some bad photos of the plaque awarded to Ottawa champions, on which you can see why the strength of Bell and Gloucester can be called a return!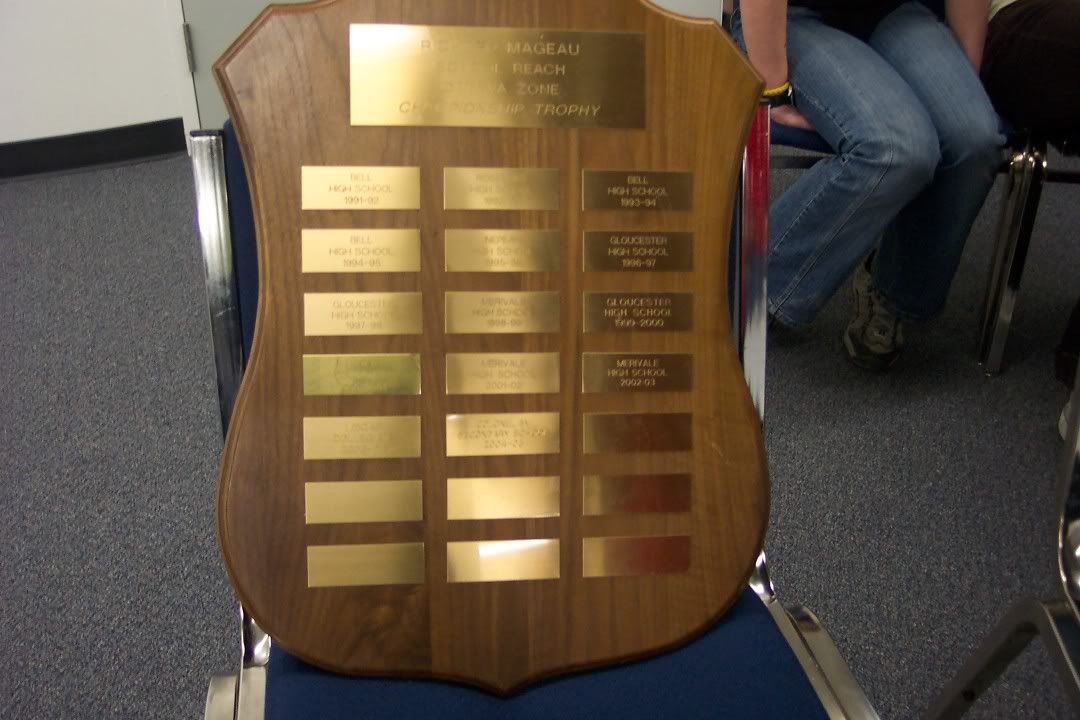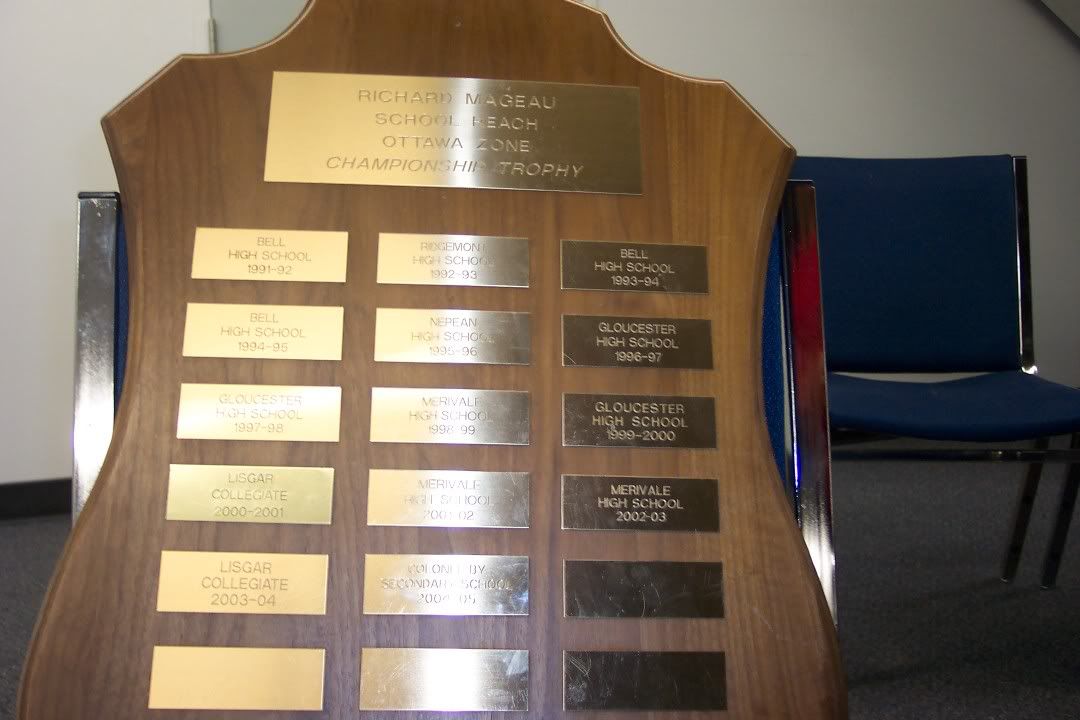 In case you can't read it, the plaque is called the "Richard Mageau School Reach Ottawa Zone Championship Trophy," after a pioneer of Reach in Ottawa. The trophy has been awarded annually since 1991, and the history of winners is Bell, Ridgemont, Bell, Bell, Nepean, Gloucester, Gloucester, Merivale, Gloucester, Lisgar, Merivale, Merivale, Lisgar, Colonel By...and, though not enscribed yet, Lisgar again this year.